Jonathan Saiz has made several paintings using crystals and the distortions created when looking through a crystal. I haven't spoken to him, but what I get from the art is that everything looks different depending on where you stand. A crystal, or "diamond" as one commenter referred to it is a beautiful object that is highly valued in society; however, it originates as a piece of coal and goes through a long process to become what we see today.
If you stand on one side, you see a completely different world then if you stand somewhere else. In life it is impossible to stand where I stand since my body is occupying the space, thus in a literal sense it is impossible to see the same things I see at the exact moment I see them since we're in a different position in space. On a more practical level, one you understand that everyone sees the world from their own positions and has their own basket of aspirations, then life makes a little more sense.
My favorite painting out of the collection presented is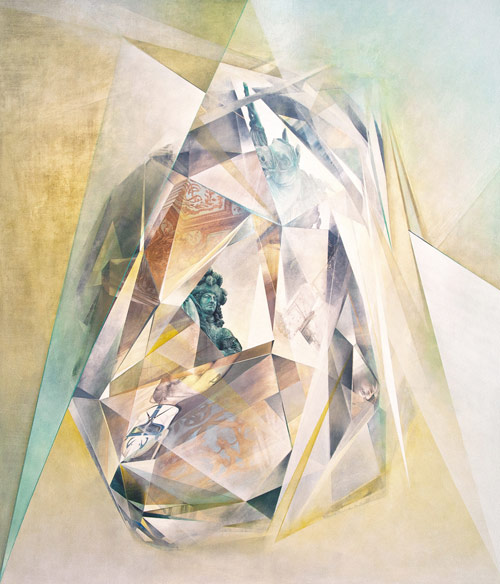 In the coming months we will be creating stories and talking about how we're not the one's holding the possibilities. Though we are THE STUDIO of possibilities, we are not here to give you your dreams on a diamond cut silver plater. Our intention is to share a piece of the possibilities with you and the rest is in your hands; you make whatever you want with the piece.
Now after putting this picture in the blog post, I can see this being a perfect example of what I'm looking to explain in the future. This diamond is a piece of possibility, and everyone who looks into it sees their own possibilities. We are striving to be a beacon of hope that, it is possible; whatever you're idea, dream, project, or ambition may be; It is possible.
You can see the rest of Jonathan's paintings by going to the following url:
Thank you Jonathan for the paintings, I'd love to hear from you if you read the blog.
No related posts.